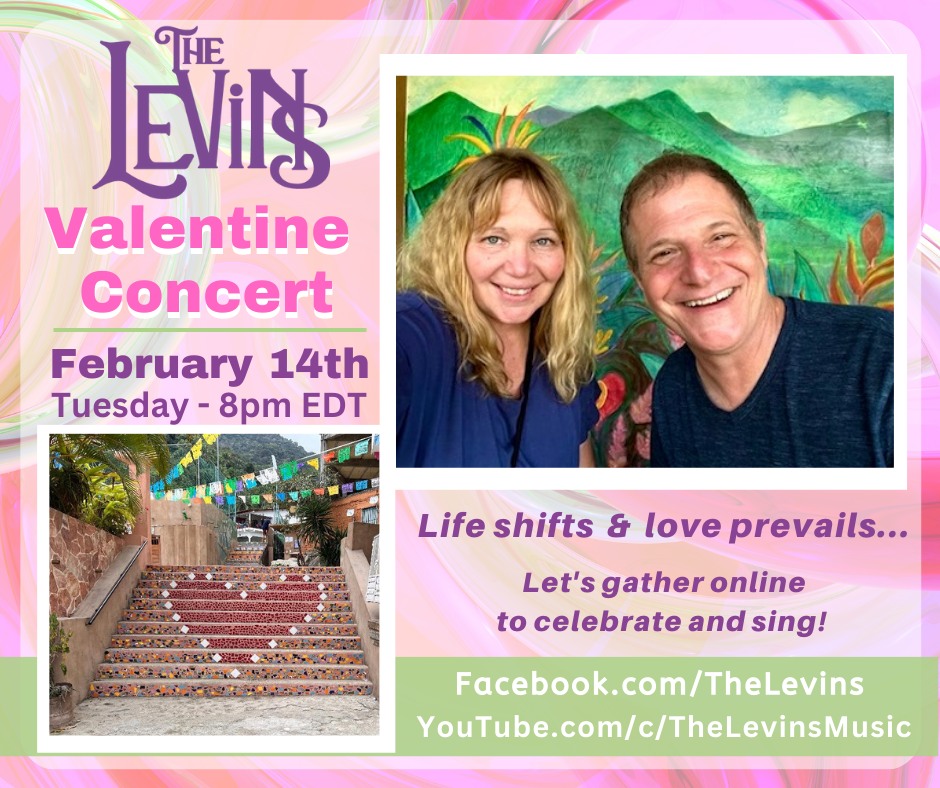 ---
VALENTINE
CONCERT
FEBRUARY 14th 
8 pm EDT
Life shifts and love prevails! Let's celebrate together, rise above the Hallmark- and sing about love on all levels!
This will be a live streaming concert on both  Facebook and You Tube! See link below or on our FB page.
LINKS
See less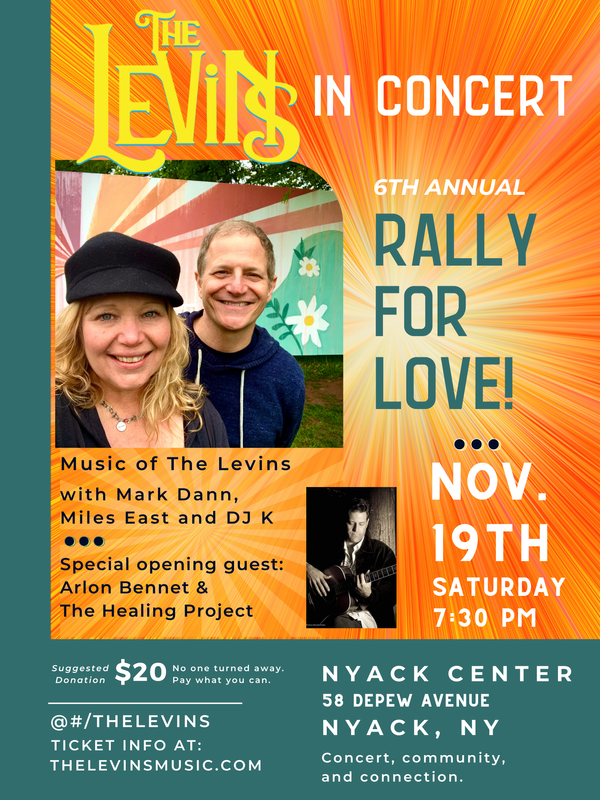 NOVEMBER 19th             
RALLY FOR LOVE!
Music of The Levins
with Mark Dann and Miles East
Special Opening Guest:        Arlon Bennet & the Healing Project
SATURDAY at 7:30pm  
Join us for a night of live music with full band  and multi-media.
$20 / Purchase Tickets here: 
New Song/Video: For the Times
Greetings! We hope that the seasonal shift is offering you the chance to savor change and realign all things good. In this time of turning, we wrote and recorded this song the other night as an opportunity for self reflection; recognizing that it's never easy to begin. 
We justify. We rationalize. We don an aire of perfection. But in truth, we do have moments of fallibility. Thoughts, and actions that are not our best.  
Those things are not who we are.
But if we don't take a moment to acknowledge and release, then how do we change? How do we grow? How do we become our best selves? Self compassion, self awareness, self reflection. Self forgiveness. Faiths have their practices, higher powers are called upon but it is still up to the individual to do the work. To learn, to move through pain. To understand the moments, so that there is a chance for evolution. Not for shame, fear or regret... but for love, compassion and kindness to lead the way. 
We are grateful for this beautiful video collaboration with Rabbi Julie Hilton Danan. Be sure to check out @wellsprings on Instagram to check out more of her incredible imagery.